Elevation Certificate
Elevation Certificate
Your insurance agent or lender may ask you for an elevation certificate. This certificate verifies the elevation of the lowest floor of your house relative to the ground. It is especially important if your house/building is in a high-risk flood area.
If the property owner finds the house/building has been inadvertently mapped in a Special Flood Hazard Area, we can use the elevation certificate to submit a request to FEMA for a Letter of Map Amendment (LOMA). This will drop the mandatory flood insurance requirement.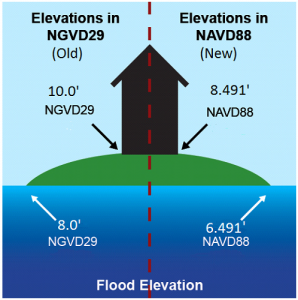 Need an elevation certificate?
---
An elevation certificate is an important administrative tool for the National Flood Insurance Program. This certificate allows properties to be properly rated via the NFIP for post-FIRM or Pre-FIRM buildings by providing the buildings elevation in comparison with the Base Flood Elevations for the Flood Hazard Zones determined by FEMA.
.
---
Have an elevation certificate and want a free review? Contact us!